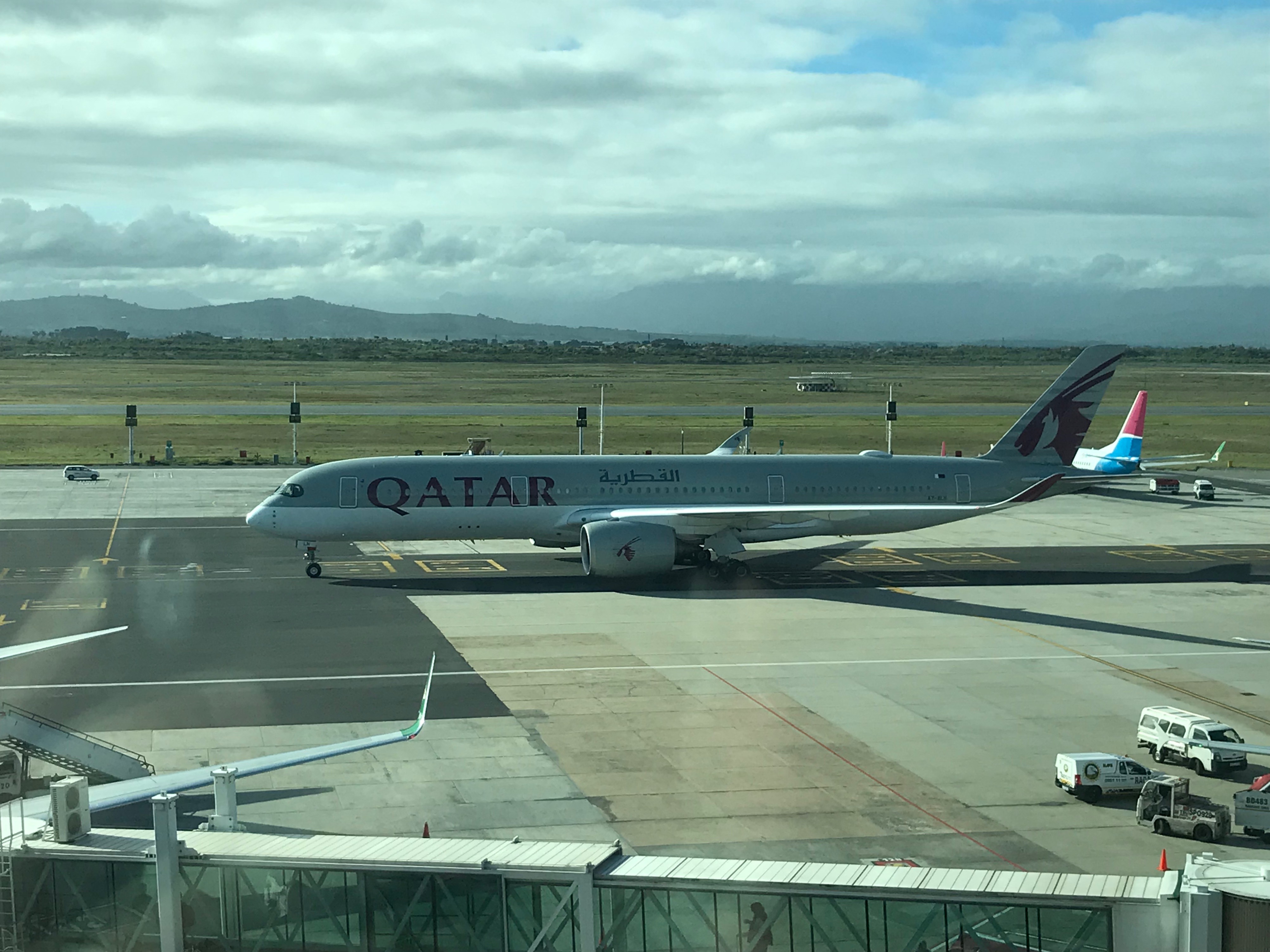 The Facts:
Founded
1993
Alliance
Oneworld
Hubs
Hamad International Airport (Doha)
Headquarters
Doha, Qatar
Frequent Flyer Program
Qatar Airways Privilege Club
Fleet Count
Around 233
Skytrax Rating
5 Stars (out of 5)
Type of Airline
Full Service
Parent Company
Government of Qatar
Travel Classes
Economy Class
Business Class
First Class (A380, Regional Flights)
Competitors
Emirates
Etihad
Website
https://www.qatarairways.com
A Qatar Airways 787-8 at Windhoek Airport
Analysis:
4 Things To Know About Qatar Airways
Fleet: Qatar Airways narrow-body fleet is made up entirely of A320 series aircraft, consisting of A319LRs (of which they only have two aircraft), A320s, and A321s. They use their narrow-body aircraft mainly within the Middle East, along with (normally) using them to fly to low-yield destinations, mostly including in South Asia and Africa. In addition, Qatar Airways has 50 A321neos on order (to replace their older A320s), of which 10 are of the LR variant, and Qatar also recently cancelled their order for 30 737 MAXs. Their wide-body fleet is quite divers, being composed of A330-200s, A330-300s, A350-900s, A350-1000s, A380s, 777-200LRs, 777-300ERs, and 787-8s. In terms of their long-term fleet plans, Qatar plans on retiring the rest of their A330s within the next two years (though I wouldn't be surprised if they are retired during the pandemic), along with retiring all of their current 777s by 2024, which is somewhat confusing, given that some of their 777-300ERs are only a couple of years old. As a replacement for both aircraft types, Qatar Airways is in the midst of taking delivery of 43 A350-1000s (fun fact: they were the launch customer for both variants of the A350) and will take delivery of 30 787-9s to replace their A330s, and will take delivery of 60 777Xs (10 777-8s and 50 777-9s) with options for up to 50 more starting in (possibly) 2022.
Route Network: Qatar Airways has a similar business model to Emirates and Etihad, in which their main business is connecting passengers between continents, largely between the East and the West. This is mainly possible due to Qatar's fabulous geography, located perfectly for passengers traveling between the US and India, Europe and Asia/Australia, along with between Africa and Asia, Europe, and North America. While they do have a fair amount of origin and destination passengers in Doha, it's not nearly as popular a tourist destination by all accounts as Dubai, possibly even Abu Dhabi. While Emirates focuses on average more on connecting the world's largest cities at a scale unmatched by no other, Qatar, in addition to connecting the world's largest cities, albeit on average at lower frequencies and with smaller aircraft, flies to more "niche" and smaller destinations around the world than Emirates does, such as Chongqing, Marrakech, Windhoek, or Kilimanjaro.
Lounges: Unlike Emirates, which has multiple lounges that stretch the length of the terminals, Qatar Airways only has two more traditional (though massive) airport lounges at its main hub in Doha. The first is their Al Mourjan Lounge, which is their business class lounge, available to all business class passengers traveling on Qatar Airways, as well as those traveling on Oneworld airlines, along with select Qatar Airways (Silver status and up) and Oneworld (Sapphire and above) elite members. The lounge is known to be quite good, with unique(ish) features such as a a sit-down restaurant and a games room for children. Qatar Airways' flagship lounge is their Al Safwa lounge, available to first class passengers, including those traveling onboard the A380 in first class and those traveling "first class" (which really is business class, just branded as first) on intra-Middle East flights. The lounge is known to be among the best in the world, with features such as an a-la-carte restaurant, intra-lounge hotel rooms (with ensuite showers), a spa, a family/gaming room, along with dozens of types of seating in what is quite possibly the word's best first class lounge. In addition, passengers traveling in economy class can purchase access to the Al Mourjan Lounge, and business class passengers may purchase access to the Al Safwa Lounge for about $165 per person. Qatar Airways also operates a few lounges available to business class passengers at select airports around the world, such as at London Heathrow.
Award Program: Qatar Airways' award program is called Qatar Airways Privilege Club, which isn't exactly known to be the best or most lucrative in the world. For example, their mileage redemptions are pretty bad in comparison to other airlines such as American Airlines; flights from the US to Doha cost 101,500 miles, while on American, they would cost 75,000 miles. Mileage for redemptions is based on a distance based award chart for partner redemptions (while they just have a calculator for redemptions on Qatar metal), which is quite overpriced, in my opinion. One can transfer points to Qatar Airways from Citi and Marriott, though I wouldn't recommend doing so, as there are many much more valuable Oneworld points currencies, such as American Airlines AAdvantage and British Airways Avios. Qatar has three tiers in terms of status: Silver, Gold, and Platinum, which correlate into Oneworld status, though benefits are largely unremarkable.
Travel Classes
Economy Class
Economy Class on Qatar Airways is in a 3-3 configuration onboard their A320s, a 2-4-2 configuration onboard their A330s and A380s (upper deck), a 3-3-3 configuration onboard their 787s and A350s, and a 3-4-3 configuration onboard their 777s and A380s (lower deck). Qatar Airways' economy class is known to be among the best in the world, with amenity kits provided on long-haul flights and seat pitch being on average about 32 inches. In addition, personal on-demand entertainment is available onboard all aircraft, with personal device entertainment being available in addition onboard some A319s and A320s, which is quite an impressive accomplishment. WiFi for purchase is available onboard all A380, A350, B787, aircraft, along with select B777, A320, A321, and A330-200 aircraft.
Qatar Airways' "Revolutionary" Economy Class Seat
Unfortunately, there is no section of extra legroom economy class. Last year, Qatar Airways unveiled a new economy class product, which will be featured first onboard their A321neos and was hyped as "revolutionary," in addition to being advertised profusely on their website, and while it does seem to be quite good (with features such as a 13.3 inch 4k screen, USB C ports, and a slightly larger table), it certainly isn't anywhere near "revolutionary," like their QSuite product was. In terms of baggage, passengers are allocated 30kg (66lbs) of baggage in total, besides flights to the US, Canada, Argentina, and Brazil, where passengers are allocated 2 23kg (30lbs) bags.
Business Class
Qatar Airways' business class is known to be among, if not the best in the world (especially with their QSuites), having been ranked as having the world's best business class by Skytrax in 2019 (and no, I don't think this is one of their corrupt rankings, such as when they gave Lufthansa a 5-star rating, while Emirates only has 4 stars). Qatar also has a world-class business class soft product, with great bedding that includes mattress pads on long-haul flights, in addition to being an airline that is known to have amazing service and among the best food in the world in business class. Passengers also have access to Qatar Airways' fantastic Al Mourjan lounge in Doha, along with other Qatar Airways, Oneworld, and partnering lounges around the world. In addition, passengers have access to Qatar's onboard lounge on their A380, along with first class passengers. In terms of baggage, passengers are allocated 40kg (88lbs) of checked baggage on most flights, though on flights to the US, Canada, Argentina, and Brazil, passengers are allocated 2 32kg (70lbs) bags.
Most of its business class seats are world class, although some are less amazing, so described below are Qatar Airways' different business class seats from worst to best.
Recliner: Business Class on not retrofitted A320/A321s features recliner seats with leg-rests. These seats also have personal video screens. These aircraft are mostly used on short-medium haul routes (1-6 hours). Business Class on these aircraft is in a 2-2 configuration. These seats are fairly similar to short-haul business class in the US, although the seats have more legroom and have legrests.
Angle Flat: Some of the not retrofitted A330s still feature angle flat seats with around 165 degrees of recline. While these are fine for short haul flights, if you are aware that one route that you are traveling on has these seats, try to avoid it, as angle flat seats do not get the most out of your money on long haul flights which the A330 is flown on. Business Class here is in a 2-2-2 configuration. Qatar Airways seems to have retired or sold (to Air Italy and Aer Lingus) most of their older A330s with angle flat seats. However, since even their newer A330s don't feature an amazing business class seat, if possible, try to fly on some of Qatar's other aircraft (such as the A350) since they offer much better business class seats.
Forward Facing Flatbed (777): On the not retrofitted 777s, business class features flatbed seats in a 2-2-2 configuration. The seats are not private, feel outdated, and don't offer direct aisle access to every seat. These aircraft are also flown on some ultra-long-haul routes, and for business class on those long flights, not having all aisle access is not ideal. Fortunately, Qatar Airways is in the process of retrofitting their 777s with the best business class seat in the world – the Qsuite.
Qatar Airways Old Boeing 777 Business Class (Image Courtesy of Qatar Airways)
Forward Facing Flatbed (A320/A330): On the retrofitted A330s, business class features fully flat bed seats in a 2-2-2 configuration and feature the Rockwell Collins Diamond seat. Qatar Airways only recently retrofitted these aircraft with fully flat bed seats, meaning that Qatar could have retrofitted these aircraft with seats with all aisle access, however neglected to do so. Overall, if possible, avoid the Airbus A330on Qatar, due to the fact that both business class seats (non-retrofitted and retrofitted) are inferior to some of Qatar's other long haul business class seats such as on the A350 or 787. Qatar's Airbus retrofitted A320 series aircraft feature a similar product, as on their retrofitted A320s, Qatar Airways features flat-bed seats in a 2-2 configuration. It is fantastic that Qatar Airways features flat-bed seats on its shortest of flights (even on 2-3 hour flights). Flatbed seats cannot be found on other many regional flights throughout the world. These seats are nearly identical to United's 787, 757, and old 767 and 777 business class seats and are also found on American's and Delta's intercontinental 757s.
Reverse Herringbone: Business Class on Qatar's A380s, Boeing 787s, along with on older A350-900s features flatbed reverse herringbone seats with all aisle access, with the seat model being the Rockwell Collins Super Diamond. This model is generally considered to be one of the best business class products on the market as it offers direct aisle access to all passengers and has a large amount of privacy.
Qatar Airways' 787-8 Business Class (Image: Shahram Sharifi/Wikimedia Commons)
Qsuite: Qatar Airways' Qsuite is generally considered to be the best business class product on the market. It is only one of two business classes in the market to have fully enclosed suites (the other being on Delta Airlines). Seats are staggered and alternate between being forward facing and rear facing. Seats in the middle of the cabin have a divider in between the forward and rear facing seats, which can be lowered to create a four-person suite, advertised as being ideal for families and work associates. To be clear, this is the only product in the entire world (first and business class) to be able to have a four-person suite. The seats closer together in the middle of the cabin can create a double bed, making it only one of two business class seats in the world to be able to have a double bed (the other airline being Singapore Airlines). The Qsuite is featured on all Airbus A350-1000s, newly delivered Airbus A350-900s, retrofitted Boeing 777-300ERs and retrofitted Boeing 777-200LRs. Overall, due to the amount of privacy and practicability for passengers, the Qsuite business class is widely accepted as the world's best business class. 
Qatar Airways Airbus A350-1000 Qsuite (Image Courtesy of Airbus)
Qatar Airways' QSuite In The Double Bed Configuration (Image: Travelarz/Wikimedia Commons)
First Class
Unlike its business class, Qatar Airways does not have an industry leading first class product. On their Airbus A380, Qatar Airways features open suites; while excellent, they still are sub-par to other airlines such as Emirates, Etihad, or Singapore Airlines which have closed suites, some of which even have a separate chair and bed. The seat is fairly private and I imagine that it would be extremely comfortable. There even is a "Buddy Seat" which has the cool feature of being able to be face a companion, though it is still in no way industry leading. It's a bit ironic that Qatar's Qsuite business class has a closing door while their flagship first class product not have closing doors, making their Qsuite seat debatably (though probably still not) better than its first class seat. First class also has a much superior soft product in comparison to business class, including superior bedding, food, along with much more personalized service. Passengers also get access to Qatar Airways' excellent Al Safwa lounge in Doha, along with their onboard bar on their A380.
One other oddity about Qatar Airways is that on their intra Middle Eastern flights, they market business class as first class. This is so that passengers traveling within the Middle East can have access to the first class lounge and can have (slightly) superior onboard service. In addition, passengers traveling on long-haul flights connecting to an intra Middle Eastern flight do get booked in first class on the short segment, so that means that they in addition have access to the Al Safwa lounge while transiting in Doha. Please note that in terms of the short-haul "first class" seats, they just use aircraft which usually have business class (such as the A320 or A350) and brand the premium cabin as first class (refer to seat list in the business class section).
Lastly, in terms of baggage, passengers have the same baggage allowance as business class: they are allowed to check 2 32 kg (70lbs) bags onboard each flight.
Qatar Airways Airbus A380 First Class (Image Courtesy of Qatar Airways)
Have you ever flown on Qatar Airways? Share about your experience below in the comments section!
Related