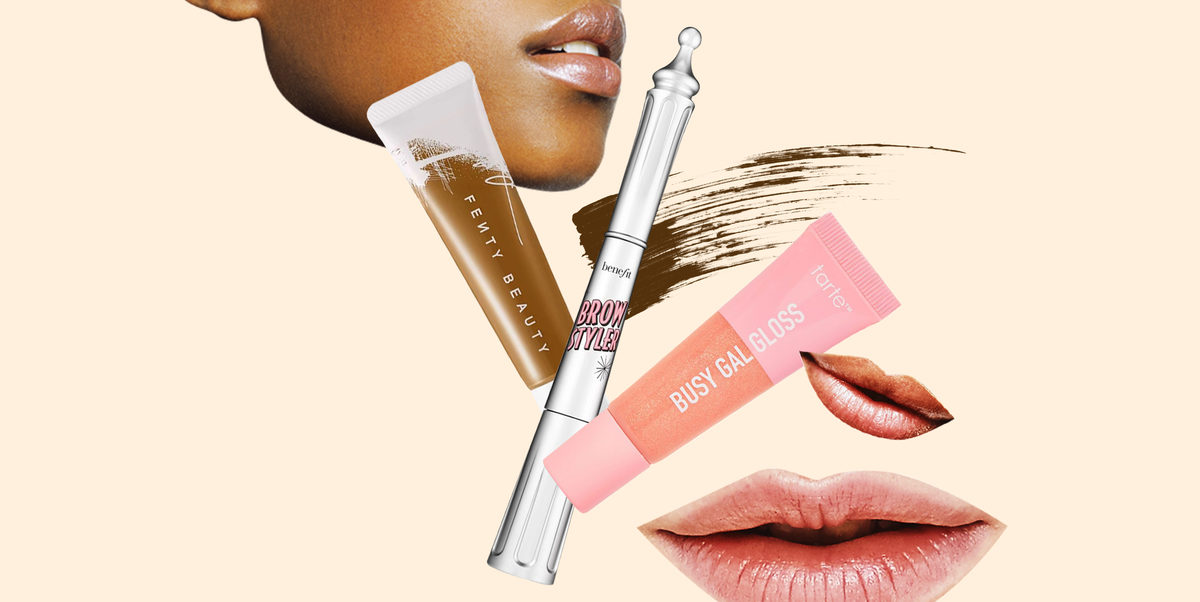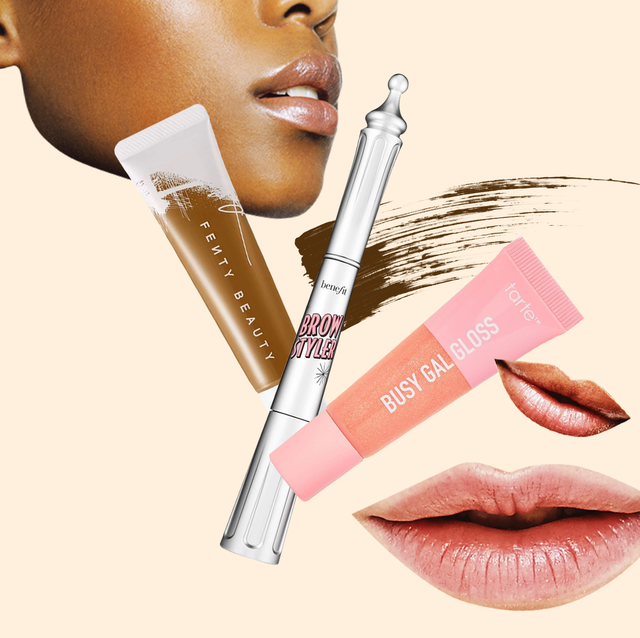 Katie Buckleitner
There's nothing like finding a holy-grail makeup product. You know, the one you buy in multiples just in case, god forbid, they discontinue it. But it feels like there's a new makeup launch or a new trend on the market every day, making it really, really hard to separate the good ones from the, uh, not so good ones. So, as a die-hard makeup fan, I'm here to make your lives a little easier by helping you find those game-changing products that make your heart sing. I've swatched, swiped, and tested everything I could get my hands on to find the best makeup products that are actually worth the hype (and, you know, the cash). Keep reading for the best of the best, including everything from a long-lasting lip stain to a glow-worthy highlighter.
Advertisement – Continue Reading Below
1
This Dual-Ended Contour Stick
Uoma Beauty Double Take Contour Stick
With a range of shades, you're bound to find your match with this makeup product. On one end is a highlighter that makes your cheekbones popping, and on the other end is a lightweight stick contour that's so easy to blend. Regardless of which side you decide to use, neither end will have you looking streaky or dry, thanks to the hydrating lychee extract in the formula.
2
This Multi-Use Pencil
Make Up For Ever Artist Color Pencil
The key to getting your lipstick to actually stay put? A good lip pencil. This makeup product glides right on without setting into fine lines, and it leaves your lips with the perfect, subtle stain. You don't even need to wear lipstick to rock this one—just slide on the pencil and layer a lip gloss on top for an easy go-to look.
3
This Moisturizing Lip Oil
Dior Lip Glow Oil
Think of this lip oil as a stain-gloss-balm hybrid. It does it all, thanks to the cherry oil swirling around in the formula. Swipe it on and you'll immediately notice how it hydrates your lips, leaving behind a glossy finish and a hint of color.
4
This Sheer Bronzing Powder
Iman Cosmetics Sheer Finish Bronzing Powder Afterglow
amazon.com
Sweep this powder on the high points of your face for a glow up. The hint of shimmer in the formula gives you just the right amount of light, adding natural-looking warmth to your skin. Bonus: You can also use this makeup product as blush or eyeshadow.
5
This Liquid Glitter
Danessa Myricks Beauty Colorfix Foils in Nebula danessamyricksbeauty.com
$18.00
When you think of a glitter face gloss, you probably imagine a product that's sticky and gritty, but this makeup product is neither. The creamy liquid formula is lightweight (because of the glycerin in the formula) and long-lasting. You can dab it on your face, your lips, or your eyes to give yourself an intergalactic-level glow.
6
This Matte Red Lipstick
Mented Cosmetics Red Matte Lipstick in Red Rover mentedcosmetics.com
$18.00
This shape of this red lipstick is a game-changer for anyone with a deep skin tone. The velvet formula is soft and buttery, lasting all day without settling into the cracks of your mouth. I swipe this makeup product on whenever I feel like rocking a power lip.
7
This Multi-Finish Eyeshadow Palette
Morphe Madison Beer Channel Surfing Artistry Palette
Whenever I want to create a bronze smokey-eye, I pick up this makeup product. Not only are there so many finishes in the palette, meaning you have the option to switch things up, but the shades are so pigmented, giving you a bold eye look every time.
8
This Lengthening Mascara
Marc Jacobs Beauty At Lash'd Lengthening and Curling Mascara
If you're looking for a mascara that'll take your lashes to new heights (literally), wiggle this one on. The dense, short bristles catch and curl every single lash and leave behind an even color to instantly opens your eyes. And the small, pointed tip on this makeup product allows you to get into those hard-to-reach corners.
9
This Multi-Purpose Bronzer Palette
Beauty Bakerie Coffee & Cocoa Bronzer Palette
While this makeup product works on all skin tones, it's absolute perfection on darker ones. The earth-toned shades are versatile (you can use them as bronzer, highlighter, contour, or eyeshadow), long-lasting, and easy to blend. I mean, what more could you ask for in a palette. Feel free to mix, match, and layer the shades—even though there are only four, you can create an everyday look, a nighttime glam look, and everything in between.
10
This Non-Flaky Brow Gel
Anastasia Beverly Hills Dipbrow Gel
Whenever my eyebrows are looking a little raggedy, this gel pulls them together. Sweep it on and it instantly fills in your arches, plumping them up without giving you an unrealistic look. Also, a little goes a long way with this makeup product, so wipe off the excess before you swipe it on.
11
This Hydrating Tinted Moisturizer
Laura Mercier Tinted Moisturizer
Just when you thought this cult-favorite tinted moisturizer couldn't get any better…it effing did. With a brand-new formula that launched last year (it's got super moisturizing ingredients, like macadamia oil), and an expanded shade range (bless!), you need to put this makeup product on your face RN. It gives you that perfect, sheer, no-makeup makeup look with a little bit of added glow.
12
This Pigmented Eyeshadow Palette
Anastasia Beverly Hills Jackie Aina Palette
You know how sometimes you'll swipe on a shadow and it barely even shows up? Yeah, you won't have to worry about that with this eyeshadow palette. Beauty influencer Jackie Aina collabed with Anastasia Beverly Hills to create a makeup product with intense color payoff that's also super buildable. There are 14 shadows total, from matte finishes to metallic, that you can use to create any look you dream up.
13
This Matte Foundation Stick
MAC Studio Fix Soft Matte Foundation Stick
I don't know about you, but my foundation tends to slide off my face by lunchtime. And because I don't want to carry around a massive bottle of liquid foundation to touch up during the day, I throw this foundation stick in my bag instead. The formula is really blendable and it leaves behind a matte finish that won't dry your skin out or settle into your fine lines.
14
This Dual-Ended Brow Pencil
Benefit Cosmetics Brow Styler
This makeup product changed my life—seriously, WTF was I doing before it existed? It's a two-in-one eyebrow pencil and powder that shapes and fills your brows. I use mine to create a more natural look, but if you're into bolder brows, this pencil will definitely get the job done. Oh, and it actually lasts for hours (like, until you wash your makeup off at night).
15
This Lightweight Lip Gloss
Tarte Double Duty Beauty Busy Gal Gloss
Ask anyone who knows me—I loooove a good lip gloss. I'll wear it alone or throw it on over a lipstick to add some sheen, and this lip gloss from Tarte is one of the best I've tried all year. It doesn't even feel like you're wearing lip gloss. It's lightweight, hydrating (thanks, vitamin E), and because of the vanilla in the formula, this makeup product smells good enough to eat (pls don't do that, though).
16
This Hydrating Liquid Foundation
Fenty Beauty Pro Filt'r Hydrating Longwear Foundation
I was already obsessed with Fenty Beauty's matte foundation, so I couldn't wait to try out this hydrating foundation—and it didn't disappoint. This makeup product gives you full coverage with a natural finish that doesn't cake. It's also packed with grape-seed oil, with leaves you with a dewy, but not oily, glow.
17
This Vegan Mascara
Clove and Hallow FlexLash Mascara cloveandhallow.com
$19.00
This cruelty-free and vegan mascara is a dream. The lightweight formula locks your hairs in place without weighing them down, and the short bristles are able to grab and coat even your smallest of lashes.
18
This Luminous Blush Stick
Milk Makeup Glow Oil Lip + Cheek
Technically, this makeup product can be used on your cheeks andyour lips, making it a two-in-one (aka a win-win). And if you're going for the "bb angel sent from above" glow, this needs to be your go-to blush stick. It's super easy to use—just swipe it onto your cheeks (or lips) and use your fingers to blend it in. You're going to be obsessed with the sheer color tint left behind.
19
This Waterproof Liquid Eyeliner
Marc Jacobs Beauty Highliner Liquid Eyeliner
The tip of this liquid eyeliner is so sharp it could honestly prick your finger. Kidding, but seriously—it's precise and glides on like a charm, so you won't have to stress about tugging or pulling. Plus, the color payoff on this makeup product is a 10/10 and the waterproof formula lasts for hours.
20
These Highlighter Drops
Becca Glow Silk Highlighter Drops
Afraid of using liquid highlighter? Don't be, it's super easy. Apply a couple of drops of this makeup product on the high points of your face (cheekbones, temples, and the bridge of the nose) and blend. The result? A weightless, pigmented glow that'll have people stopping in their tracks. 
21
This Smoothing Lip Balm
Fenty Beauty Pro Kiss'r Luscious Lip Balm
I have this lip balm in my bag, on my nightstand, and on my desk at work—it's that good. The makeup product smooths out and softens my flaky lips—shout out to the hydrating shea and mango butters—without feeling too heavy.
22
This Lengthening Mascara
Stila Magnum XXX Mascara
The name of this mascara says enough—it's truly a makeup product that does the most (in the best way possible). The fibers of the wand lock onto each lash, giving them volume, length, and curl that won't clump. And the hourglass shape of the wand means you can customize your lash look from natural to over the top—the shorter bristles deposit less pigment, while the longer ones kick out the lashes at your outer corners. 
23
This Lipstick with a Glitter Finish
Pat McGrath Labs BlitzTrance Lipstick
Pat McGrath is the "Mother of Makeup," and this lipstick is her golden child. Because of the Brazil-nut oil in the formula, this makeup product not only swipes on super easily, but it also hydrates your lips while leaving them with an Insta-worthy,  glittery finish. 
24
This Buildable Liquid Blush
Em Cosmetics Color Drops Serum Blush
All you need is one drop of this liquid blush on both cheeks to get a lit-from-within glow. Want a more pigmented look? Feel free to add a couple more drops of this makeup product—the formula is very buildable and blendable, so it won't leave you looking like you have rosy clown cheeks.
25
This Full Coverage Cream Foundation
Best Makeup Products: Kevyn Aucoin Foundation Balm
The other members of Cosmo's beauty team have been raving about this cream foundation, so I had to try it. And, guys, it lives up to every word. This makeup product gives you a full-coverage matte finish that makes you look FaceTuned IRL. It's also filled with hyaluronic acid and vitamin E, two MVP ingredients that work to hydrate and condition your skin.
26
This Matte Liquid Eyeshadow
Stila Suede Shade Liquid Eyeshadow
Smooth, easy to blend, and lightweight—all of these words describe this liquid eyeshadow. And just because it's a matte makeup product doesn't mean that it's going to fall flat on your eyes. The shadow gives your look depth and dimension without going overboard. Wear it alone, or pair it with another shadow.
27
This Moisturizing Lip Stain
Bite Beauty Outburst Longwear Lip Stain
Don't get it twisted—yes, this is a lip stain, but the color is still intensely bold and vibrant. There's also passion flower and coconut oil swimming around in the formula, keeping you moisturized all day long. Another bonus? The color of this makeup product actually stays on your lips, no matter what you had for lunch.
28
This Shimmery Powder Blush
NYX Professional Makeup Sweet Cheeks Creamy Powder Blush
This powder blush is a dream to apply. The texture is really smooth, and it glides right on, giving you a shimmery finish that's just right. Sweep this makeup product on your temples and around the edges of your forehead for an allover flush. 
29
This Cream Stick Concealer
Marc Jacobs Beauty Accomplice Concealer & Touch-Up Stick
I find that a lot of stick concealers end up looking streaky on my face, but that's not the case with this one. This makeup product is creamy, smooth, and it won't leave streaks on top of your foundation. The blendable formula also gives you medium coverage, but you can easily build it up to full coverage if you need to fake a full night's sleep.
30
This Easy-to-Blend Bronzer
Fenty Beauty Sun Stalk'r Instant Warmth Bronzer
My friends will let you know that I am absolutely obsessed with this bronzer (like, I can't stop talking about it). There's a shade for everyone (yes, even you), and it blends in easily without leaving behind any harsh lines. This makeup product makes you look like you just got off a yacht in Ibiza, even if you actually spent all day sitting under fluorescent lights at work.
Ama Kwarteng Ama Kwarteng was previously the associate beauty editor at Cosmopolitan.
This content is created and maintained by a third party, and imported onto this page to help users provide their email addresses. You may be able to find more information about this and similar content at piano.io
Advertisement – Continue Reading Below