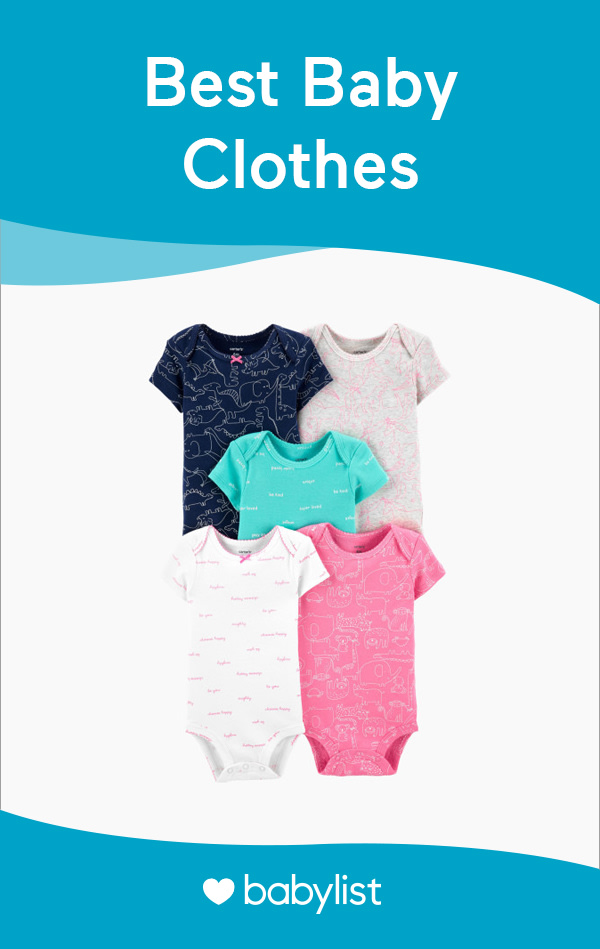 Baby clothes are adorable, but they also have to stand up to poopsplosions and copious amounts of drool and be as comfy as a pair of sweats. And, with so many options out there, it's hard to know where to go for what.
Let us make it easier for you: First, find out how many baby clothes you'll need. Then, check out this list of our favorite items of clothing that range from cute and fun to totally practical.
BTW: Love that bandana bib in the photo above? It's from Copper Pearl! You can read more about them below.
Budget-Friendly Bodysuits
Carter's is the place to stock up on bodysuits, the backbone of any baby wardrobe. They're known for their affordable sets of three to five coordinating bodysuits and a huge selection of patterns and colors. The all-cotton one-pieces have expandable necklines for easing over your baby's head and come in long or short sleeves or tanks.
The Comfiest Pants
Chubby baby thighs are so adorable it's almost criminal to cover them up. But when you have to, Gap has loads of cute pants from buttery soft jersey leggings and sweatpants to elastic-waist denim and twill.
Booties for Chilly Toes
Baby shoes are notorious for somehow always coming off. That's why parents love Zutano booties, the brand that finally came up with soft baby shoes that actually stay on. Two snaps around the ankle make them easy to put on but difficult to fall off and they come in cozy fleece or lightweight cotton.
Socks that Actually Stay On
Like shoes, baby socks rarely stay on. All those wiggles eventually work the sock over the heel and then—poof!—the sock is nowhere to be found. But Babysoy socks are made of a special blend of cotton, Azlon (from soy) and nylon, making it less likely those suckers are going anywhere (but they're not so tight that they'll leave marks on your baby's legs). These socks also have non-skid soles for when your baby is ready to start stepping.
A Fun Romper
Dress up this sweet jungle romper from Loulou Lollipop for cute photo ops, or dress it down for playdates at the park. The brand is known for intersecting design and function, so all their products aren't just adorable—they're long lasting, too.
Cozy Jammies
There's nothing quite like the feel of comfy PJs. And the ones from Kickee Pants are among the coziest around. These one-piece footies are made from 95% viscose from bamboo and 5% spandex, and they have 50+ UPF protection for daytime play, too (there's no shame in pajama play dates!). They make perfect hand-me-downs since they last practically forever and never lose their shape no matter how many times you wash them.
Gender-Neutral Picks
It can challenging to find baby clothes that aren't specifically designed for girls or boys. But Primary is all about providing quality basics—bodysuits, tees, pants and pajamas—in solids and stripes that work for any gender. Their simple silhouettes come in a range of brilliant rainbow colors.
Practical Yet Whimsical
These bibs are designed to soak up the fountain of drool your wee one will produce somewhere around three months old all the way until about a year—also known as teething time. These dribble bibs have a cotton layer on top, next to your baby's skin, and bottom layer of absorbent fleece, making them thicker than your average bib. They also have two snaps so you can expand their size as your baby grows. Most importantly, these cute bandanas keep your baby's neck warm and clothes dry.
Dress It Up in a Hurry
While it can be fun to design a flawless outfit for your child, more often you might find yourself rushing out the door and sticking to the simplest, cleanest bodysuit you can find. That's why these Baby Bling headbands are such a sweet find—their bright, colorful headbands are easy to wear and adorable. These vintage-style headbands are stretchy—they can fit newborns to adults! Having a few on hand can dress up any day out with your little one.
Snuggly Outerwear
This silky-soft, ultra-snuggly fleece jacket will keep your kiddo warm when it starts getting chilly—not to mention totally adorable with those little teddy bear ears on the hood. But our favorite thing about this outerwear? Magnets. That's right, no buttons to fuss with or zippers to get caught up; just line up the edges and the magnets close the jacket right up!
Choosing what's right for you
Useful features on your baby's clothing can save time, stress and even mess—which is music to your ears if you're a sleep-deprived and busy parent. Plus, the colors and patterns on these outfits are pretty darn cute. With the right designs, the best baby clothes can be both super handy and super adorable.
Check out our Clothing Shelf in the Babylist Store!
This information is provided for educational and entertainment purposes only. We do not accept any responsibility for any liability, loss or risk, personal or otherwise, incurred as a consequence, directly or indirectly, from any information or advice contained here. Babylist may earn compensation from affiliate links in this content. Learn more about how we write Babylist content.

Source