Qatar Airways still have free drinks and alcohol on all services, however during Ramadan the alcohol service is much more discrete, and there is no pre-flight sparkling wine.
Drinks are always brought complete to your seat: there are no minitures on a trolley on Qatar Airways!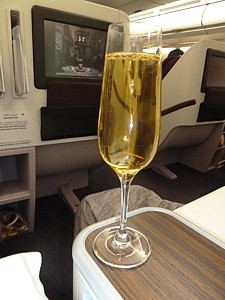 During Ramadan Qatar's hub Doha Airport is completely dry. There is no alcohol on Qatar Airways' Business or First class lounge during this month. However, there is free orange juice.
Business Class sparkling wine – Qatar Airways inflight drinks
Sparkling wine Billecard Salon
Great sparkling wine
A really good sparkling wine, from the French Vineyards of Mareuil-sur-Ay, from an area that is known for producing Sparkling Wine which is also known by another word beginning with C, but which is too costly to explicitly name.
A very popular non vintage sparkling wine, Billecart is renowned for its purity of fruit and fine, elegant structure.
Great as an aperitif style, it has been described as like tiny diamonds exploding on the tongue.
12%
Business Class Wine – Qatar Airways inflight drinks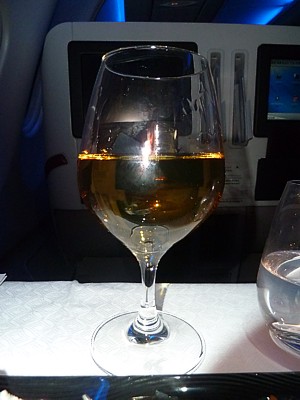 Bouchard Pere et Fuils
French white from Burgundy
This delivers the freshness and purity of fruit you expect from one of the best vineyards in the region.
It's reasonably complex, nicely balanced, and and has the crisp juiciness that's great for the table.
This is a winner with the fish Qatar are so fond of, or with seafood, and poultry dishes, or simply while watching the IFE.
13%
Chateau Phelan Segur
French Red from Bordeux
Chateau Phélan makes fine, long lasting Bordeaux, dominated by Cabernet Sauvignon with a third of the blend being Merlot.
The wine has been no more fine than this release which is probably the best wine from Phélan-Ségur for the past 20 or so years.
Swathes of depth with deep concentrated purple and blue fruits that will see the wine live comfortably for the next 10-15 years.
This excellent wine has fruity summer berry flavours with soft tannins. Structured with good mouth-feel, it is a great wine to pair with a wide range of dishes.
14%
Business Class Port – Qatar Airways inflight drinks
Kopke Port
Douro Valley, portugal
Deep ruby red colour; plumy, raisin nose; spicy, jammy fruit flavours, sweet, medium-bodied with a rich, warm finish.
Mind you, this port is famous, some would say notorious, for being very 'drinkable'. The problem is it is far too easy to ask for another, and another…
Business Class Beer – Qatar Airways inflight drinks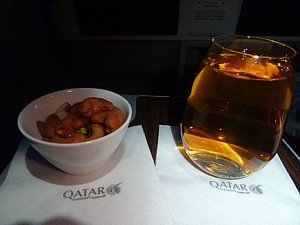 Heiniken
Lager Beer
Soft on the mouth with a clear yellow, fluffy white head. Flavour has sweetish cereal, light bitternes with a slight grainy aroma, and light hops.
You'll never see a can of the stuff in Business though – oh no, you'll only set a small glass brought to your seat.
4%.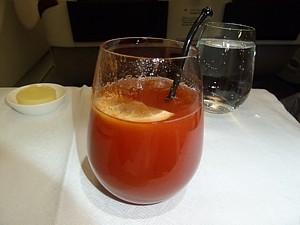 Business Class Cocktails – Qatar Airways inflight drinks
Bloody Mary
Smirnoff Vodka
Ah, the classic Bloody Mary (also called a Caesar in the Middle East).
It doesn't get to be a more simple cocktail, and just contains vodka and tomato juice.
Gin and Tonic
Gordon's Gin with tonic. It could be worse, far worse.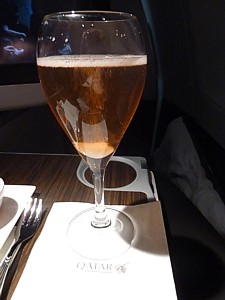 37.0%.
Diamond Fizz cocktail
Smirnoff Vodka
Diamond Fizz is a sparkling wine cocktail on Qatar Airways, with gin, lemon juice, sugar, and that famous sparkling wine that begins with C.
More commonly known as a French 75 around the Gulf, it's very good.
Business Class Spirits – Qatar Airways inflight drinks
Whisky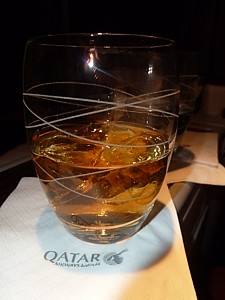 Glenfiddich Malt Whisky
On the new route to Edinburgh this is one of the most popular drinks in the Business Class cabin.
40.0%.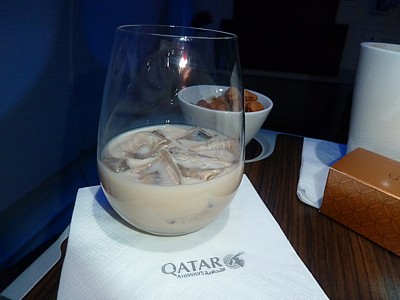 Baileys
Great after a long dinner over the Urals on your way to Istanbul, before getting some kip at 38,000 feet.
20.0%.
All images and content copyright airreview.com