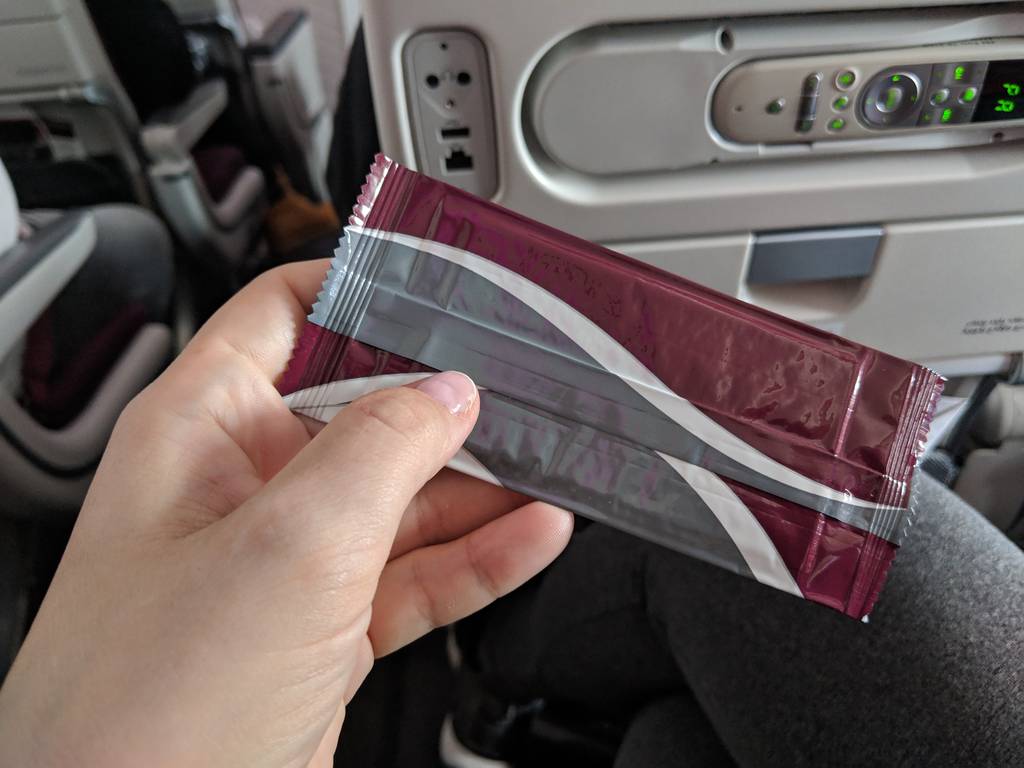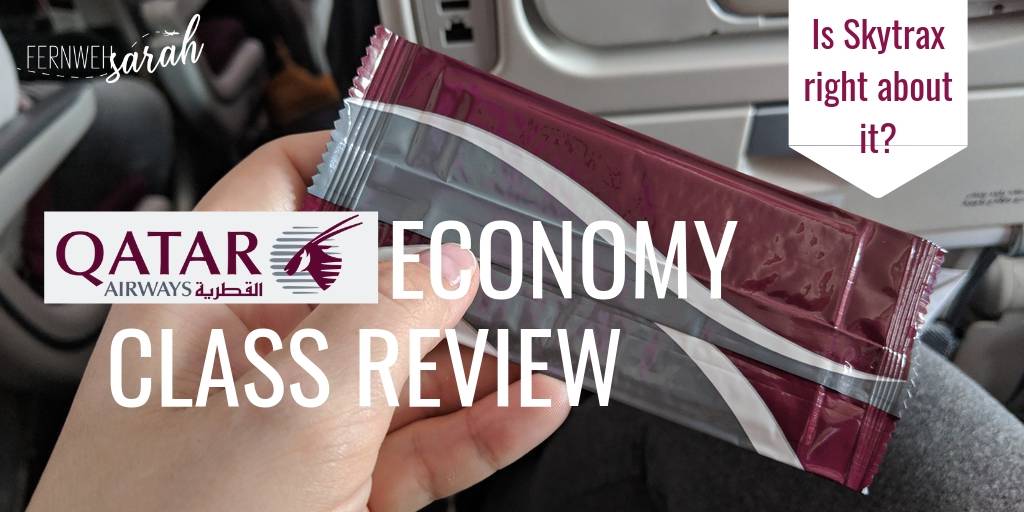 For my trip to Thailand, I flew Qatar Airways for the first time. Given that Qatar receives outstanding reviews and a 5*Skytrax rating every year (and was recently named #3 best economy class), I thought it is worth doing a little review on Qatar Airways. 
During my various travel (both leisure and for my previous job) I flew well over 300 times and with many different airlines. One of my favorite long-haul business class products has been Turkish Airlines so far (and Lufthansa Business Class) and I even got to fly the Suites Class from Singapore Airlines (their special First Class on selected airplanes)
Read: Singapore Airlines Suites Class – flying the most luxurious first class product
However, also most of my international flights have been in Economy class (like most "normal" people) and especially here, the quality varies greatly. I have had some really bad experiences with some Airlines (especially Air China – we even ended up having to sue them in court. And won. But that's another story…) – but also some really outstanding experiences.
We even booked our round the world ticket in Economy class. However, Qantas is not part of Star Alliance so we did not fly it during that nine-month trip. You can fly Qantas round the world too though!
Read: Round the world tickets – how to plan your trip!
Pin this for Later!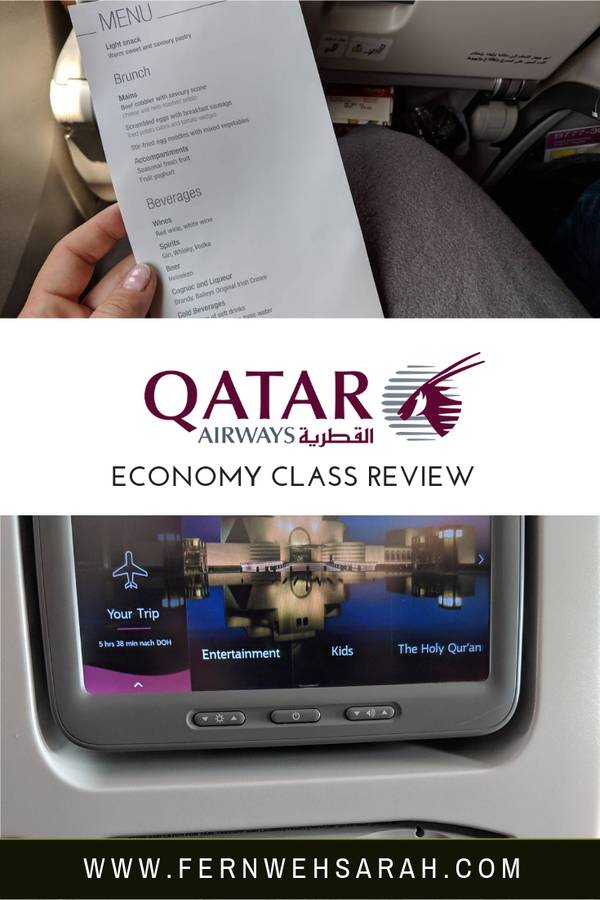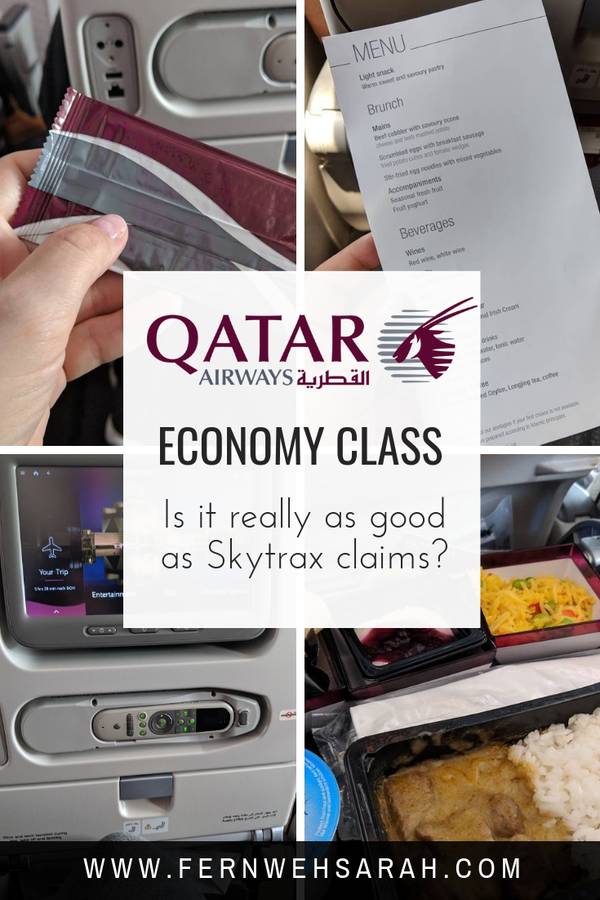 My favorite airlines for Economy Class Travel
So far, my favorite airlines for Economy Class long-haul flights have been:
If you are wondering why there are a few typical candidates missing:
Emirates is also fantastic normally. However, on one flight we reached our end destination 18h (!) too late – and the way the entire situation was handled by Emirates was not acceptable. So no, for now, I can't whole-heartedly call them one of my favorite airlines.
Thai and Oman Air: I have heard really good things but I have not yet flown them long-haul myself – I would love to try them one day!
Flying Qatar Airways Economy Class Experience
But now, let's get back to my review on Qatar Airways. As this trip was sponsored by the Tourism Authority of Thailand, I was flying Economy Class. Sadly (but expected) I did not get upgraded and thus was not able to experience their famed business class.
I flew from Frankfurt to Bangkok with a layover in Doha for two hours and back from Phuket, also with a layover in Doha. All flights were on the Boeing 777-300 – one of the major types of planes that Qatar uses. One of these was equipped with the famous Q-suites and I was at least able to have a glance at them.
Their biggest competitor in Business Class is Emirates – and this is definitely a tough battle looking at this Emirates Business Class review!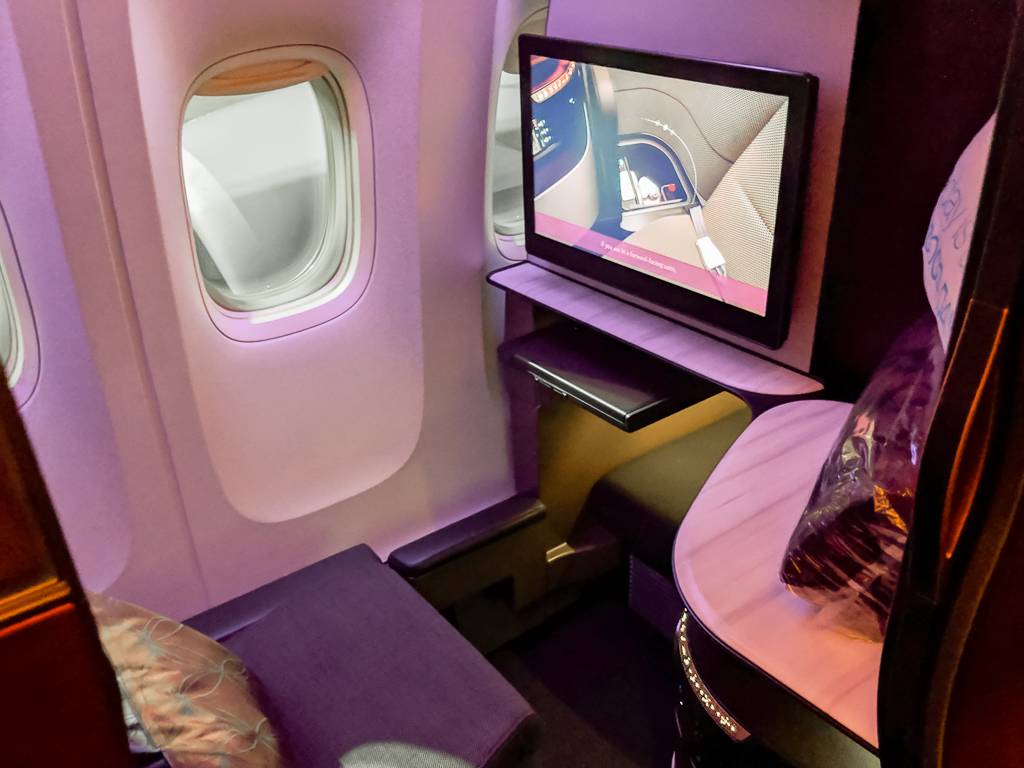 The famous Q-Suite of Qatar Airways business class product
Check-in and Baggage Allowance With Qatar
Online Check-in with Qatar works smoothly and you get your boarding pass via email. Surprisingly, there was no mobile boarding pass – but I was told you can simply show the normal print version on your mobile phone too.
I didn't risk it and asked to get the boarding pass printed at the airport – which was no problem.
Baggage allowance varies from flight to flight but is generously more than gracious. On my flights, I had a baggage allowance of 30kg!
Qatar's Economy Class Seats
Next up in this review on Qatar Airways: Let's have a look at their Economy Class seats!
In the Boeing 777-300 Qatar uses a 3-4-3 configuration of seats. Given that some airlines use a 3-3-3 seating plan, the seats are a bit narrower than with some airlines I have been flying with.
But they aren't terribly narrow (like Air China…) and generally really comfortable. There is also fairly generous legroom so that even men don't have to crawl into them.
Every seat is equipped with a fairly large LCD display (that, like with all airlines, doesn't reach a convenient level of seamless touch functionality) and a USB power plug to charge mobile phones.
Qatar Airways Entertainment System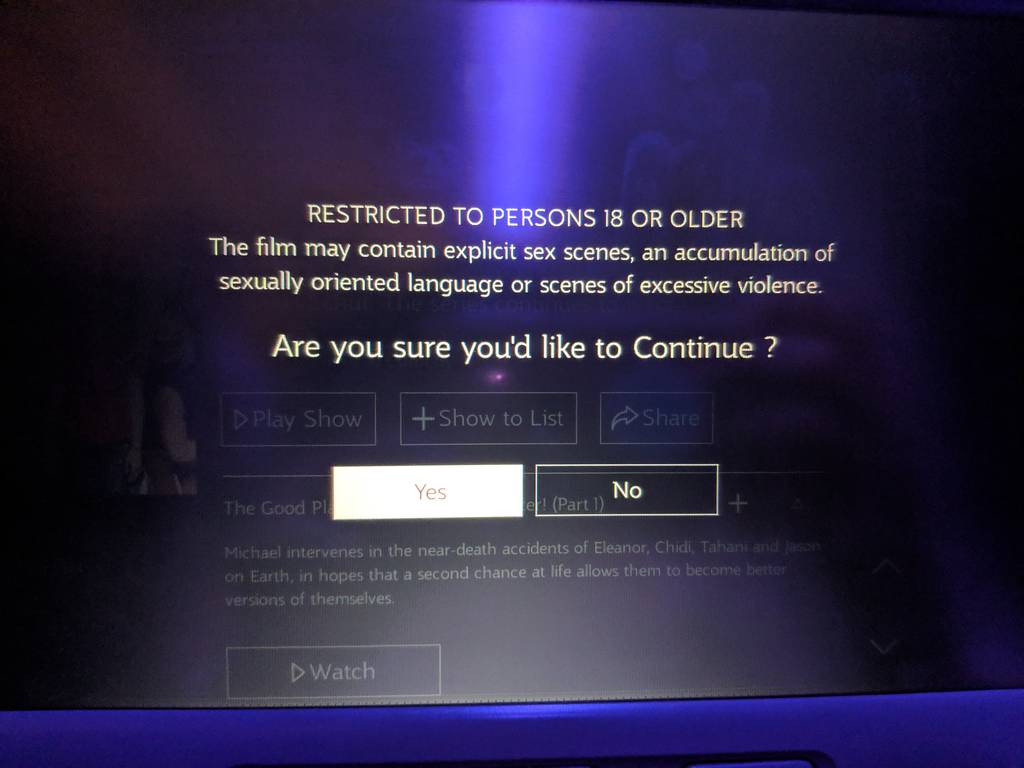 Especially on long flights, the Entertainment System is really, really important – so let's review Qatar Airways Entertainment System next!
Qatar offers a really good selection of Hollywood Movies and TV Series. The selection of German movies was a bit more limited but almost every movie is available in English with English subtitles. I prefer to watch the original tone anyway, so for me this was more than fine.
One thing that I noticed and that I personally think is funny, is the number of movies rated "R" that comes with an adult warning in the beginning. 
First, I thought that it was my terrible selection of movies. Thus, I kept looking for another film. (I mean, would you watch a movie on a plane if it shows a warning that this might contain explicit sexual scenes???). 
But when even the TV comedy series "Young Sheldon" or "The Good Place" the screen showed this "adult content" warning, I realized that this is more a "Qatar thing" than anything that would be critical from a western point of view. But hey, Sheldon had a splinter in one episode – and in the "sexually explicit" movie I saw two people kissing each other passionately!
Food on Qatar Airways Flights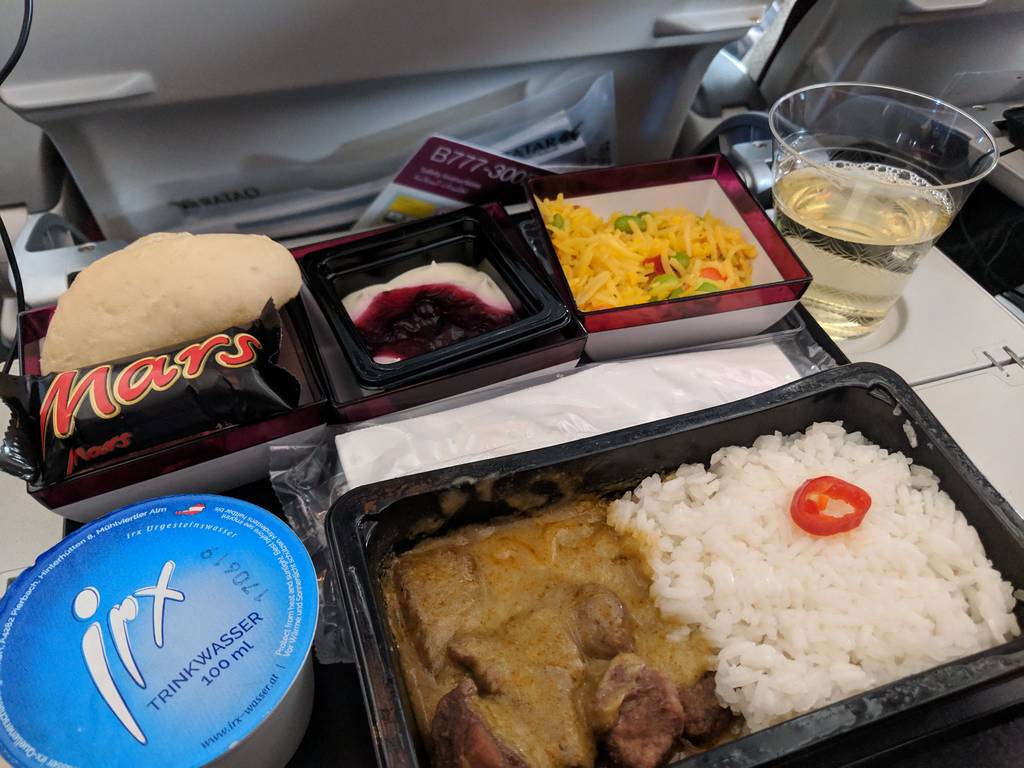 As there is not a lot to do during a long flight, I always feel like food and drinks are extremely important. Thus, I also took some time to review Qatar Airways based on how they perform in this area.
Generally, food quality of Qatar Airways was good. There are many airlines with a much less pleasant onboard meal (I am looking at you, Air China and Iberia, here!). However, Qatar does not win this game in my opinion – my personal food hero in the sky is Turkish Airlines for Economy Class.
My first flight was serving dinner only as it was 5:30 hours long only. There were three main courses for selection and my Thai Green Curry at least reminded me of the original taste (although it was rather brown than green).
I really liked that the stewardess directly handed a menu after the start. It's a small gesture, but I really value this with airlines. This way, you can give it a thought and don't have to be spontaneous once a stewardess tells you the available options.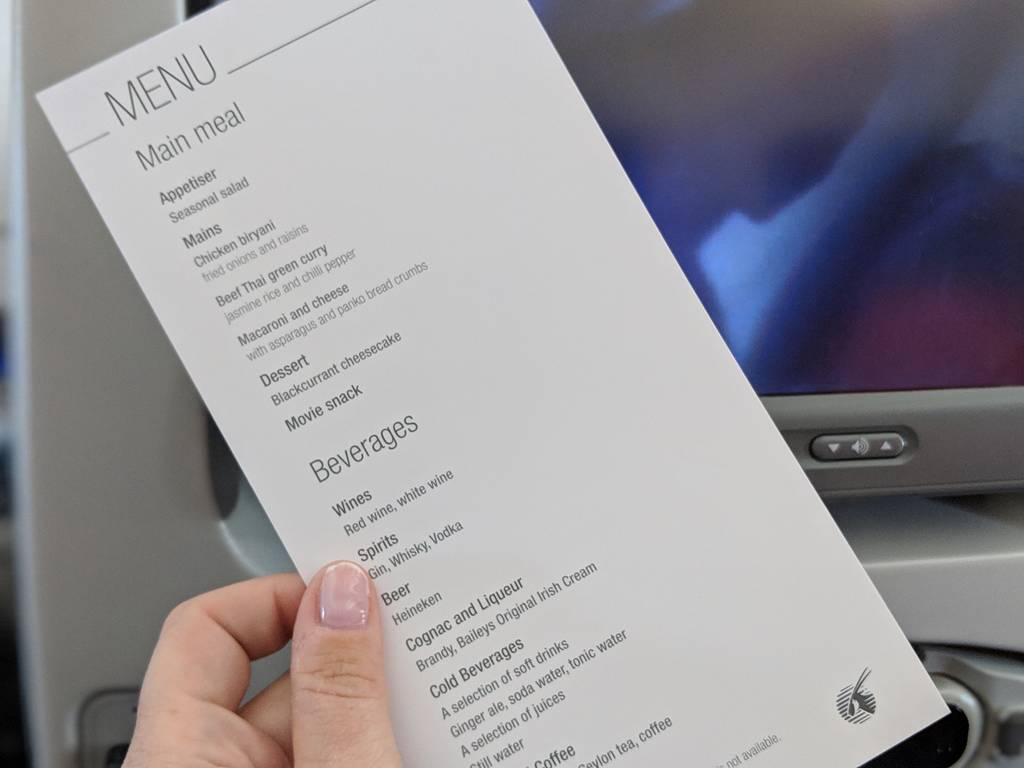 The drink selection was also extensive with a pleasantly surprising Chardonnay from Australia. I didn't try the red wine, but it was a Tempranillo from Spain. You can also order long drinks and juices (real juices!).
On the second flight from Doha to Bangkok, Qatar offered a light snack at night (no selection, a chicken/veggie pastry + a type of brownie/chocolate muffin) which was really tasty.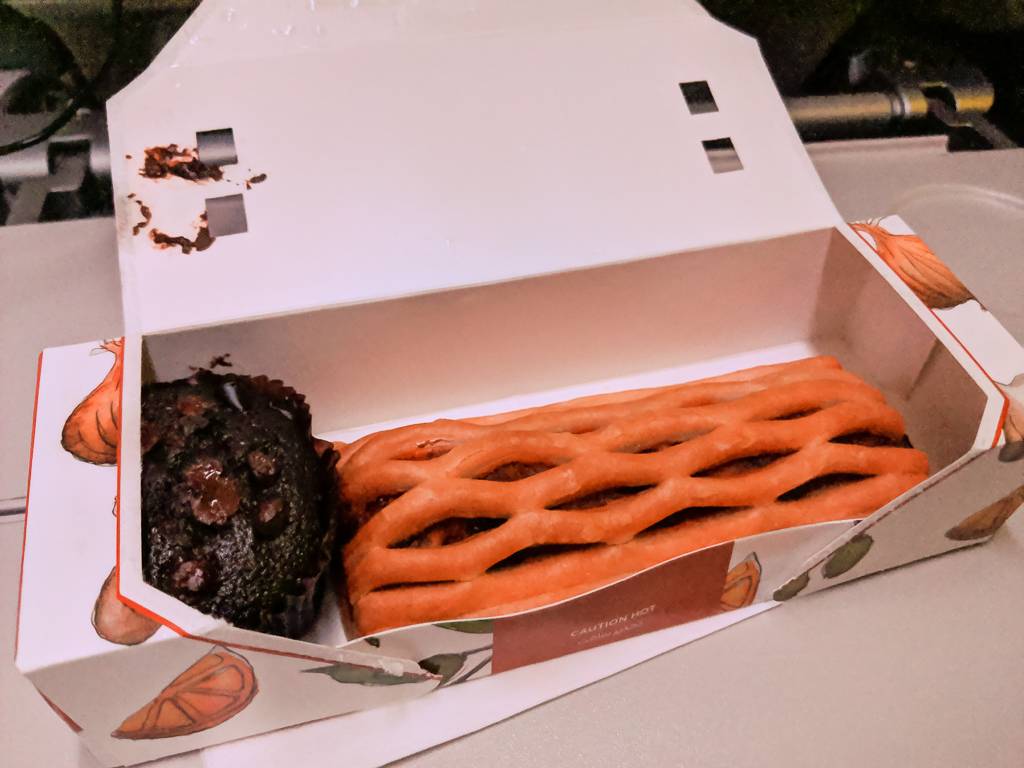 After night sleep, the main course on this flight was time for a "brunch". However, it's just a normal breakfast with the usual candidates. 
Sadly, they already ran out of one dish when they reached my chair (row 26 – rather the middle of the plane!) and the still available scrambled eggs were mediocre. And I don't know why every Airline is serving strawberry yogurt. Seriously, why??? I love strawberries and I love yogurt – but I HATE every commercially available "strawberry" yogurt… But hey, that's maybe just me.
So no bonus points for breakfast in this review on Qatar Airways – but it was okay.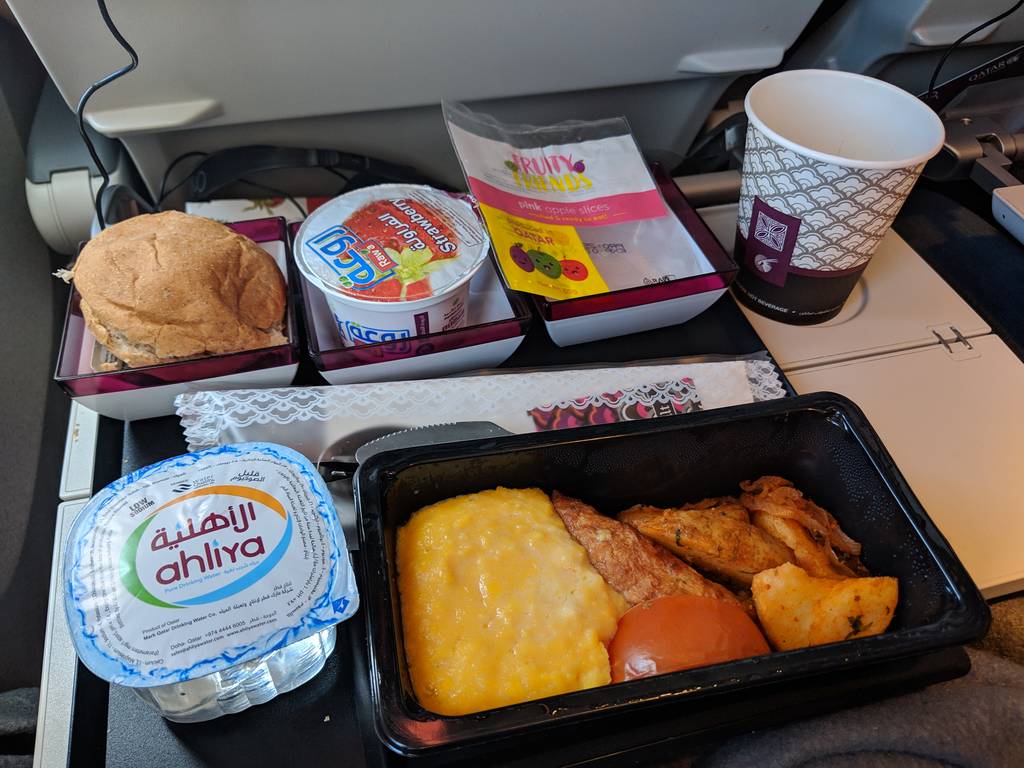 Already ate the fruits when I remembered I wanted to take a picture
Amenities on Qatar Airways Economy Class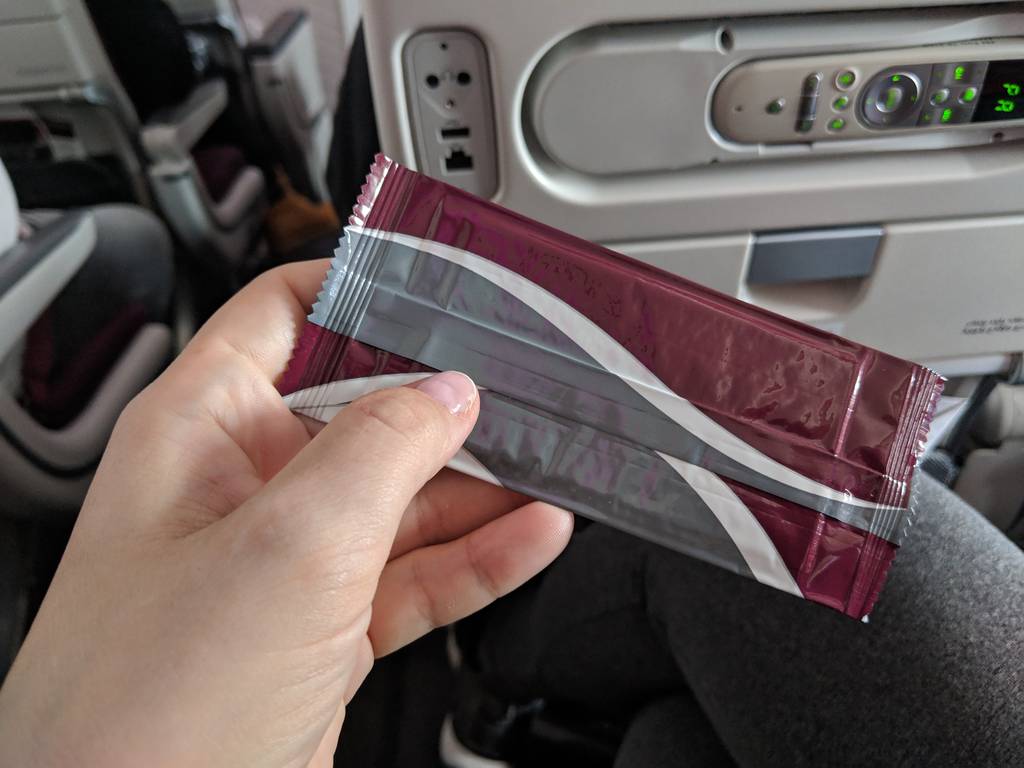 Time to review Qatar Airways and its amenities next! As usual, you will get a blanket, a cushion and headphones with Qatar Airways. The headphone quality was surprisingly good for an airline – it's not a BOSE Noise Canceling (my favorite headphones) but you will clearly hear your movie.
Qatar also comes by with refreshment towels after the start. Again, a small gesture, but one that I value. The only thing they could do here to improve is offering actual towels and not those plastic packed throw-away ones.
On the second flight, we were also given a small amenity kit containing a toothbrush + paste, a pair of socks, some lip balm, earplugs, and a sleeping mask. Again, the quality was above average, with the earplug properly canceling noise and the sleeping mask being lined with soft fabric from the inside.
Qatar Airways Economy Class Amenity Kit
Qatar Airways Service Quality
This is what Qatar is known for an I can only toot the same horn: The service on Qatar Airways flights is really good! Everyone was friendly and accommodating, always going that little extra mile.
When I asked the ground staff to check if there is a seat left where no one is sitting next to me in Doha, the lady directly offered to reseat me and checked availability. Since the flight was pretty full, there was no option – but I do value the effort!
On the plane, stewardesses were making numerous rounds offering more drinks between the meals. When you stop them and ask for something extra, they will gladly accommodate you. When I asked for a third water at one point, the stewardess even offered to bring me a full bottle too!
I can't stress how important it is for your health to drink enough on long flights! Some airlines make that almost impossible for you (looking at you, Iberia!) – but Qatar was a shining example here and they deserve bonus points for it in my review on Qatar Airways!
When flying from Doha we had to wait quite a while before we were allowed to start (over 30min) but the captain informed us during the whole process about the situation (limitations over Irani airspace) and assured they will use extra fuel to catch up the delay during the flight.
Well handled – it is the small situations like these that make an airline Top or Flop (I still remember my Condor flight to Cuba year ago where the pilot was making funny announcements and had the stewardesses serve long drinks while they were having problems to close the loading space of the airplane…)
My final thoughts on Qatar Airways
After all, I can warmly recommend Qatar Airways Economy Class product and there are only a few minor flaws or imperfections that I touched in this review on Qatar Airways. I would definitely book with Qatar again and I hope to try their business class product one day!
Have you made good or bad experiences with a specific airline? Let me know in the comments below!  
How did you like this post?
How did you like this blog post? Let me know in the comments below!
And if you have not yet subscribed to my newsletter – how about doing this now? 
I promise that I won't spam you – but you will always be the first to know about my next destination guides or Lightroom and Instagram tips! Plus, you will get access to my exclusive and free member's area! That's where I share lots of invaluable additional content with you – like my hashtag list for Instagram!
Check these airline reviews too!
Qatar Airways Economy Class Review is not the first airline review we have published on our blog so far! Check out these Economy, Business and First Class airline reviews to find the best airline for your trip!
And don't forget to check my ultimate guide on how to plan a round-the-world trip!