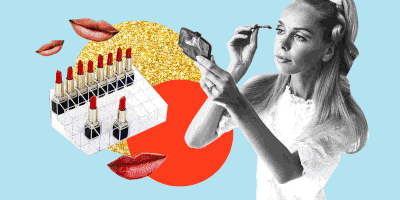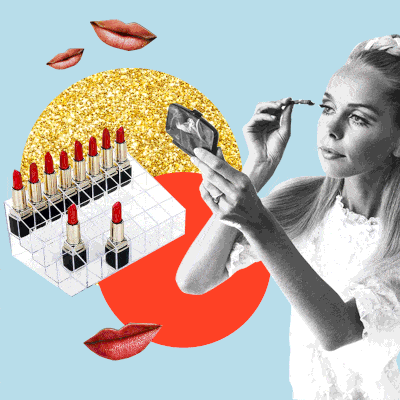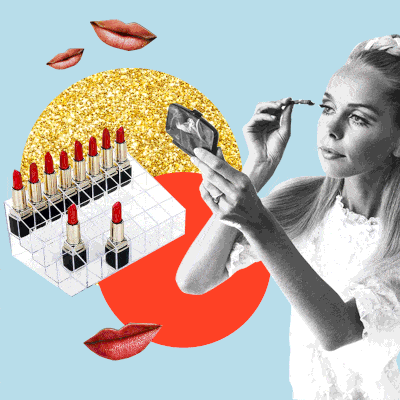 Abby Silverman
I used to take a very long time to get ready. It wasn't because it took me a long time to put my makeup on (I can do a fire cat eye in, like, 6.5 seconds, tyvm), it's because I could never find the products I needed when I wanted to use them. I would spend literally forever searching for that perfect lip stain or that one highlighter in my unorganized mess of products. It was a waste of time and low-key stressful. Then I discovered makeup organizers and my life was legit changed. They help keep my collection organized, make sure that everything is in the right place, and look really good on my vanity too. So instead of shoving all your makeup into Diptyque glasses like every other human on Instagram does, try out one of these makeup organizers below. You'll never waste time looking for a product again.
Advertisement – Continue Reading Below
1
Best Makeup Organizer for Eyeliners
Hblife Clear Acrylic Makeup Eyeliner Holder
Because of their shape and size, eyeliners can be really freaking hard to keep organized. Instead of tearing apart your makeup bag to find that one black liquid eyeliner you love, keep them all handy and easy to find in this pretty makeup organizer. There are 26 slots, enough room to even add your lip liners.
2
Best Makeup Organizer for Lipstick
Hblife Lipstick Holder
I mean, how cute would this lipstick makeup organizer look on your vanity!? It is only $8 and has space for 40 lipsticks, perfect for anyone who is obsessed with having a bunch of different lip colors to choose from.
3
Best Makeup Organizer for Nail Polish
Home-It Nail Polish Holder
I used to keep all my nail polishes in a bag. Then, one night when I was trying to find my favorite polish that was stuck somewhere at the bottom, the entire bag fell over….It was a messy disaster, to say the least. Thankfully, I've avoided any spills since, thanks to this makeup organizer. This acrylic case holds up to 60 bottles (!!) and makes your nail polishes way easier to reach.
4
Best Rotating Makeup Organizer
Basicwise Rotating Cosmetic Storage Tower
If you want to get a little fancy with your makeup organizer, look no further than this rotating tower. It not only spins, which is way cool, but it's also a great use of space and gives you access to your makeup from all sides. Plus, the tiers are all adjustable, which is perfect for fitting all your differently sized products.
5
Best Makeup Organizer for Brushes
byAlegory Acrylic Makeup Beauty Brush Organizer
Sure, you could messily store your makeup brushes in a cup…or you could keep them organized in this makeup organizer. It's great for keeping brushes of all different shapes and sizes organized, and it doubles as a drying rack (because you should be washing your brushes regularly!!).
6
Best Makeup Organizer for Travel
Calpak Hard Side Cosmetics Case
If you are like me and love to take your entire makeup collection with you wherever you go (lol), you need this makeup organizer. With two large zip-up compartments, it'll be able to fit your entire routine. Plus, the case is sturdy but still lightweight, making it perfect for traveling.
7
Best Makeup Organizer for Palettes
byAlegory Makeup Eyeshadow Palette Organizer
Palettes can be hard to keep organized, especially when they differ in size so much (exhibit A: this Morphe palette vs. this Urban Decay palette). But don't stress, this makeup organizer has you covered. It's basically a filing cabinet for your eyeshadow palettes—there are 10 individual spaces with removable dividers, just in case you need some extra room.
8
Best Makeup Organizer With a Mirror
Shany Mini Makeup Train Case With Mirror
If you have a ton of makeup but are lacking in the space department, you're going to want to try out this makeup organizer. There are two extendable trays, perfect for keeping your foundations, highlighters, and palettes in place. Plus, there's a mirror, which is clutch for when you're applying your makeup on the go.
9
Best Makeup Organizer With Drawers
iDesign 3-Drawer Plastic Vanity Organizer
Even if you're a makeup minimalist, it doesn't mean you can't benefit from a makeup organizer. This one is cute and simple, with three deep drawers that'll hold all your products and keep your small collection nice and organized.
10
Best Long-Lasting Makeup Organizer
Sorbus Cosmetics Makeup Storage Display
This makeup organizer has more than 2,800 5-star reviews on Amazon, and for a good reason. Not only can it fit a TON of makeup (shout-out to the six drawers that are included), but it's also made of a strong acrylic that is durable and won't fall apart after a couple of months.
11
Best Makeup Bag
Joy Mangano Beauty Case
amazon.com
This makeup organizer is here to replace the makeup bag you've had since middle school. It comes with four zip-up clear compartments that are also leak-proof (#blessed), making getting ready in the mornings so much easier.
12
Best Makeup Organizer for Compact Cases
Hblife Clear Compact Organizer
The round shapes of your compact powders and blushes used to be hard to find a home for…until now. This handy little makeup organizer comes with eight storage placements for blush, powders, and highlighters—basically anything in a compact.
13
Best Makeup Organizer for Lip Gloss
Mordoa Lip Gloss Holder Organizer
Love lip gloss? Then you've gotta get this makeup organizer. It comes with 24 holders for all your glosses so you can just grab, swipe, and go. P.S. This would also be a great makeup organizer for your mascaras, just saying.
14
Best Makeup Organizer for Your Desk
Mebbay 6-Pack Acrylic Drawer Organizer
amazon.com
Sometimes, you need to get ready for happy hour (or a date) at your desk. Don't stress about lugging your makeup bag from home—get this makeup organizer instead. It's just the right size for your work desk and it'll hold everything you need to get ready in less than 15 minutes. Bonus: You can stash other products you'll need during the day in there, too, like blotting papers for when you get a bit oily.
15
Best Makeup Organizer for Perfumes
Moosy Life Rose-Gold Perfume Organizer
I looove to put my fragrances on display—they're just so pretty and luxe!—and this is the best makeup organizer for that. The stadium-style organizer allows you to clearly see all the bottles, won't take up too much space, and will make you seem way fancier than you actually are.
Ama Kwarteng Ama Kwarteng was previously the associate beauty editor at Cosmopolitan.
This content is created and maintained by a third party, and imported onto this page to help users provide their email addresses. You may be able to find more information about this and similar content at piano.io
Advertisement – Continue Reading Below