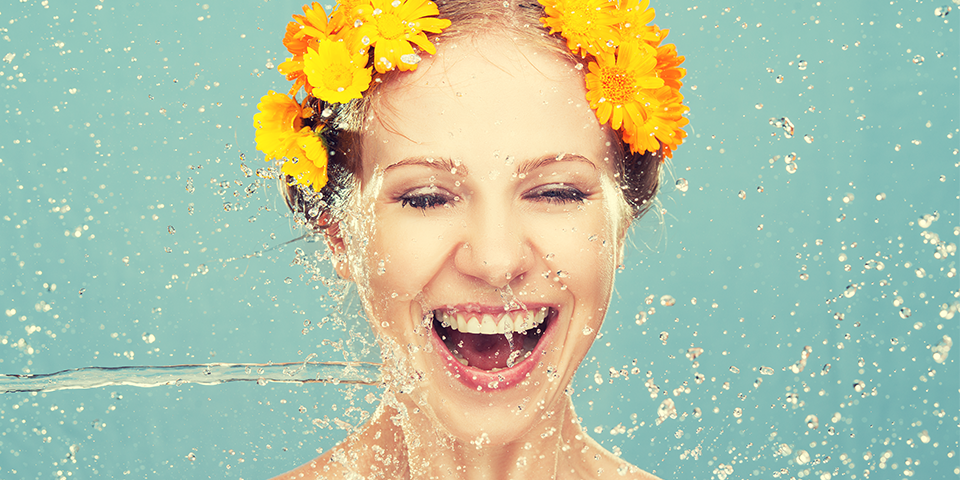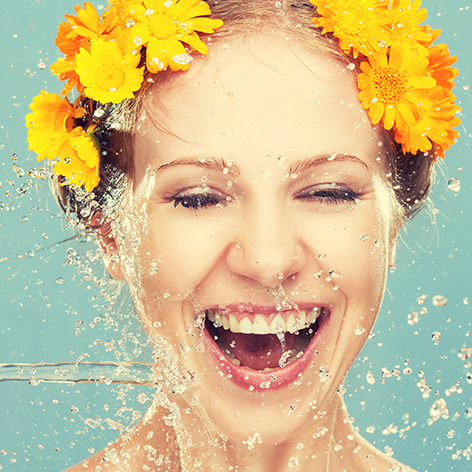 Getty
Summer is the season to loosen up and dial down your stress, and that goes for your beauty routine, too. The last thing you want is to be worried about mascara running down your face or your foundation melting away, even as temperatures soar. But if you think waterproof makeup is just for balmy days at the beach, think again.
Waterproof formulas are a fantastic pick if you need your makeup to last through a sweaty workout, a marathon girls' night out, or through allergy season to dress up watery, itchy eyes or conceal a red, sneezy nose. The bottom line: while the idea of going makeup-free all the time sounds lovely, there will certainly be moments when you want some sort of coverage that will stick through it all.
So, how does waterproof makeup work? "You have probably heard at some point in your high school chemistry class that 'like dissolves like,'" says Danusia Wnek, a chemist in the GH Beauty Lab. "If you have a water-based product, exposing it to water will typically dissolve it; however, if you have an anhydrous product (a.k.a. a waterless formula) with film forming polymers, exposing it to water won't move the formula that much and only an oil-based product will be able to remove it." This explains why even a rainstorm won't weather your waterproof mascara — and why you'll need a serious makeup remover when you do want it to melt it away.
Here, our everything-proof picks for the best waterproof makeup that stick through it all—until you're ready to remove them:
Advertisement – Continue Reading Below
1
LIPSTICK
Urban Decay Vice Liquid Lipstick
This magic wand (available in 30 shades!) delivers a rich dose of color in a glide-on formula that proved to be practically bulletproof, lasting longer than all other liquid lipsticks assessed by the GH Beauty Lab. According to digital imaging done by the GH lab, the creamy liquid resisted fading for five hours and stayed on lips even after testers sipped hot drinks.
Tester's take: "It looked fresh the whole day, through a meal and snack—virtually none came off," one raved. Another's review: "It's my new favorite lip color." 
2
MASCARA
CoverGirl LashBlast Volume Waterproof Mascara
CoverGirl's cult-favorite mascara gives you lavish lashes with incredible staying power. This under-$10 pick was the best waterproof mascara in the GH Beauty Lab's evaluations, adding volume, length and separation—all without smudging or flaking. When water was added to the mix, it excelled in resisting smearing and running. With an extra-large brush and small plastic bristles, it's easy to apply, plus it comes in three shades—Black, Very Black, and Black Brown. 
Tester's take: "While cutting onions, the tears came, but the mascara stayed put."
3
LIQUID EYELINER
Stila Stay All Day Waterproof Liquid Eye Liner
Skeptical about liquid liner's staying power? Try this super-fine tipped pen right along your lash line for a clean, defined look. Stila's user friendly liquid liner was the overall winner in the GH Beauty Lab's waterproof eyeliner study. It earned a near perfect score in our water resistance testing and consumers echoed its performance as well, noting that it "stayed put all day" — just like the name claims.  
Tester's Take: "Creating a winged-liner look felt effortless (and sometimes it takes multiple tries), thanks to the ease of application."
4
EYESHADOW
Cargo Cosmetics Swimmables Longwear Eyeshadow Sticks
When developing these creamy sticks, Cargo had testers wear them while swimming to make sure they'd withstand anything. On dry land, they hold up just as well. This eyeshadow stick will resist just about anything you throw at it, and comes in eight different shades (and our editor loves the Swimmables Lipstick, too).
Tester's take: "The scribble-on stick didn't fade or crease during a long workday. The colors are rich and layer well, and they glide on so nice and smooth." 
5
CONCEALER
Maybelline New York Cover Stick Corrector Concealer
This blendable concealer (with an easy-to-apply crayon tip) helps hide everything from dark circles to stubborn breakouts, but it won't fade away fast. With a yellow shade to hide dark circles and a green shade to correct redness, this concealer's got you covered, literally — and it won't budge until you decide to take it off.
Tester's Take: "I'm forever searching for a concealer that hides my dark circles without my having to reapply it by mid-afternoon. This brilliant little stick went way past that, lasting all the way through my evening spin classes."
6
LIPSTICK
NYX Full Throttle Lipstick
NYX's matte lipstick will give you a foolproof application at a nice price. Available in pretty, vibrant hues, this lip color holds its own through the messiest meals and hottest days—no reapplying necessary. One application is all you need to brighten your smile. 
Tester's Take: "I swiped on this rich, creamy lipstick at 8 a.m. and the color stayed fresh and bright through breakfast, lunch, and dinner — without any touch-ups! I even fell asleep with it on and woke up the next day with a pretty tint on my mouth."
7
PENCIL EYELINER
Lancôme Le Stylo Waterproof Long Lasting Eyeliner
This precise pencil allows you to draw either a crisp line or a flawless flick of liner to define eyes. Bonus: the attached built-in brush is the best smudger. No matter how you choose to wear it, the color doesn't dull. With a whopping 29 shades available, your eyeliner will stay all day no matter what color you're feeling.
Tester's Take: "While on vacation, I applied this pencil every morning before hitting the beach. After hours in the sun and dips in the sea, it didn't budge. But with makeup remover, it came off easily."
8
FOUNDATION
MAC Pro Longwear Nourishing Waterproof Foundation
With this full-coverage foundation, a little goes a long way. After using just a tiny pea-size drop, skin look evened out, with a seamless, satiny finish. This waterproof formula comes in a wide range of shades and will outlast even your most athletic summer activities.
Tester's Take: "My foundation usually begins to fade or cake within a few hours. But this lightweight cream kept my skin looking smooth and healthy from morning until night, right through an intense, three-hour hike in 90-degree weather."
Paige Stables Paige Stables is the Assistant Beauty Editor at Good Housekeeping, Woman's Day and Prevention magazines, all part of the Hearst Lifestyle Group; she has also written for Cosmopolitan, Seventeen, Redbook, Dr.
This content is created and maintained by a third party, and imported onto this page to help users provide their email addresses. You may be able to find more information about this and similar content at piano.io
Advertisement – Continue Reading Below